My Tree
Download the My Tree app!
Looking for a tree to plant? My Tree is a free app by the Canadian Forest Service that shows which trees will grow best in which Canadian locations. The My Tree app now includes more than 180 native and introduced tree species and their colour-coded hardiness zones.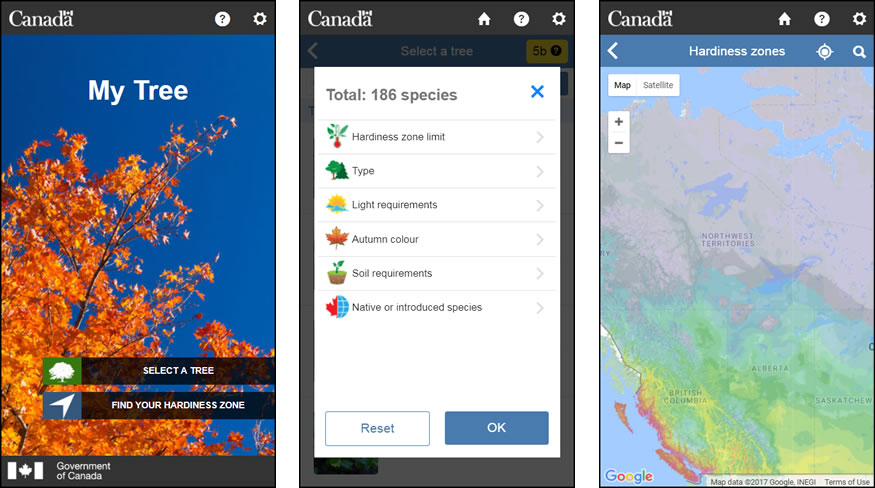 What is a hardiness zone?
A hardiness zone is a geographic area in which climate conditions allow various types of plants to grow.
How can I find a tree in the app?
You can customize your search results by location, tree type (coniferous or deciduous), soil moisture, light requirements and/or autumn leaf colour. You can even include a preference for native or introduced species.
What is the difference between native and introduced tree species?
Native trees are species that occur naturally somewhere in Canada. My Tree includes information on 94 native trees.
Introduced species have no natural range in Canada, but can survive here and are popular in landscaping. There are 92 introduced species included in My Tree.
Where did you get your information?
The Government of Canada developed the hardiness zone map in the app through a joint initiative by Agriculture and Agri-Food Canada and Natural Resources Canada.
The information on each tree species comes primarily from the Natural Resources Canada publication Trees in Canada. Where needed, we included information from a variety of credible references on horticulture and arboriculture.
For more information, please contact us.
Download the app
You can download My Tree from the Government of Canada's Mobile Centre for any operating system, or directly from the app stores for iOS (iPhone/iPod Touch and iPad) or Android.