Social aspects of wildfire management
On average, 8,600 wildfires burn 2.5 million hectares in Canada each year, often threatening communities and resulting in the evacuation of residents and sometimes the loss of homes. With the growth of residential, recreational and industrial development in forested areas, the risk for communities is likely to increase. Wildfire management agencies, communities, homeowners and others all have a role to play in reducing the risk.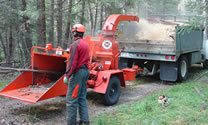 Most wildfire management agency resources are focused on fire suppression. However, there is an increasing emphasis on reducing the threat to communities before a wildfire. This requires an understanding not only of the biophysical risk, but also of the social aspects of wildfire risk management. Understanding the social aspects of wildfire management can help in the development of communication strategies, products, wildfire mitigation programs and policies, and in collaborating with the public, Aboriginal communities and stakeholders.
Researchers at the Canadian Forest Service are involved in a number of projects examining the social aspects of wildfire management.
Examining public perceptions of wildfire risk and mitigation actions
Homeowners and communities can reduce the threat from wildfires long before a wildfire begins. For example, they can keep trees thinned and branches trimmed around homes and other structures, use fire-resistant materials in home construction (such as metal roofing), reduce fuels around communities by thinning forests, and create fire breaks.
Researchers at the Canadian Forest Service's Northern Forestry Centre (NoFC) are collaborating with researchers at the University of Alberta to examine public perceptions of wildfire risk and the factors that influence communities and homeowners in taking action to reduce the threat to their properties and their support for fuel modifications on public lands.
Studies of citizens and communities in Alberta and British Columbia found that the public tends to frame risk differently from the way wildfire managers do, often including factors such as aesthetics and "naturalness" in their judgments of risk. Although most citizens have taken many mitigation actions, several factors may prevent them from doing more, such as cost, perceived effectiveness, and feeling that the threat is not great enough to warrant more action.
Working with disproportionately affected Aboriginal communities
Many Aboriginal communities may be at particular risk, because they are located in remote areas of forests that burn frequently. Thousands of Aboriginal people are evacuated each year as a result of wildfire.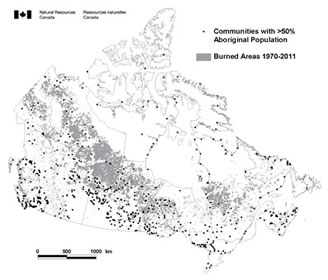 Research is underway to examine some of the unique characteristics of Aboriginal communities that influence their wildfire mitigation efforts. Some Aboriginal communities have had long associations with wildfire, ranging from traditional burning practices to modern-day firefighting. These experiences, cultural factors and the communal nature of land and home ownership are some of the unique factors that can influence support for mitigation action in Aboriginal communities.
The Aboriginal Wildfire Evacuation (AWE) Partnership is bringing together researchers from the NoFC and the University of Alberta, along with 10 federal and provincial agency partners and six First Nations communities in northern Alberta, Saskatchewan and Ontario that have experienced wildfire evacuations in the recent past. Over the next three years, the researchers will explore how Aboriginal people are affected by wildfire evacuations and the partners will develop recommendations to improve future evacuations.
Developing effective wildfire management programs through collaboration and partnership
Collaboration between management agencies, communities, homeowners and other stakeholders is key to reducing wildfire fuels and developing community protection plans. Citizen trust in management agencies is a significant factor in gaining public support for management activities such as prescribed burning or thinning the forest.
NoFC researchers are working with their counterparts in the United States and Australia to examine the role of collaboration and partnerships in developing effective wildfire management programs. Using workshops with agency staff, community leaders and others in all three countries, the research team is identifying specific actions and common factors that build trust and foster support for wildfire management. The team is developing a guide that can be used by management agencies and communities to help build enduring partnerships for managing wildfire risk.
Canadian Forest Service key contact
Amy Christianson, Fire Social Scientist
Related Canadian Forest Service research