Quebec's Pipeline Regulatory Regime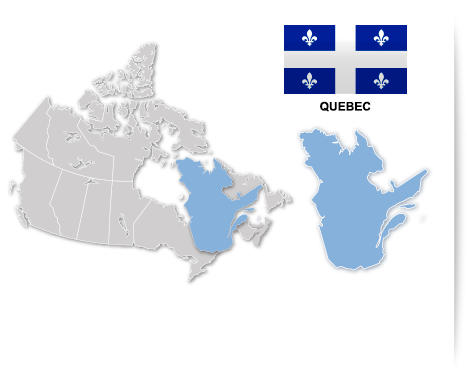 10 companies operating pipelines in Quebec

12,521 km provincial transmission and distribution pipelines

137 million barrels - crude oil consumption (2013)

271.8 billion cubic feet - natural gas consumption (2013)

$6.9 billion - value of crude oil imports (2015)
A product of the Energy and Mines Ministers' Conference
Provincial Pipeline Regulator
The following institutions, agencies, and ministries share responsibilities for pipeline regulation in Quebec:
Régie de l'énergie du Québec
Régie du bâtiment du Québec
Ministère de la Sécurité publique
Ministère du Développement durable, de l'Environnement et de la Lutte contre les changements climatiques
Ministère de la Justice
Ministère des Forêts, de la Faune et des Parcs
Société de l'assurance automobile du Québec
Commission de la santé et de la sécurité du travail
Commission de protection du territoire agricole du Québec
Sûreté du Québec
Bureau d'audiences publiques sur l'environnement
Info Excavation
Prevention
Companies operating pipelines in Quebec must comply with the technical design, construction, and operation standards of various recognized standards organizations, including the Canadian Standards Association, the American Petroleum Institute, the American Society of Mechanical Engineers, the American Society for Testing and Materials, Underwriters Laboratories of Canada, and the National Research Council Canada. The requirement to comply with these standards is generally stipulated in Acts and regulations. Pipelines may also be subject to the environmental impact assessment and review procedures provided for under the Environment Quality Act.
All natural gas pipelines must also submit their maintenance and leak detection programs to the Régie du bâtiment du Québec. A report on the findings of the maintenance and leak detection program and mitigation measures taken to address any problems must be submitted at the end of the same year.
Officials authorized to identify violations of the Environment Quality Act or its regulations include inspectors or auditors from the environmental control centre, wildlife protection officers, highway patrol officers, and provincial police officers.
The Ministère du Développement durable, de l'Environnement et de la Lutte contre les changements climatiques publishes several registers, including the following:
Maximum penalties for violations of the Environment Quality Act (a fine of $1,000,000 and/or imprisonment of 18 months for an individual, or a fine of $6,000,000 for a company) apply in cases where the harm or damage caused by the offence to human health or the environment is sufficiently serious.
Preparedness and Response
The Civil Protection Act imposes mandatory reporting of any risk-generating activities, including pipelines, to the local municipality where the source of the risk is located. A monitoring procedure, a procedure for warning authorities, and any other safety measures deemed necessary must be maintained by the company.
Regulation under the Environment Quality Act stipulates that any person who accidentally releases a hazardous material into the environment shall immediately stop the spill, inform the Ministère du Développement durable, de l'Environnement et de la Lutte contre les changements climatiques, recover the hazardous material, and remove all contaminated material that is not cleaned or treated on site. They may also be required to submit a remediation plan for the contaminated site for approval.
Through Urgence-Environnement, the provincial government provides 24/7 response province-wide to ensure that everything possible is done to minimize the impacts of environmental emergencies. Urgence-Environnement normally acts as a technical advisor, as municipalities in Quebec are responsible for emergency measures.
Urgence Environnment has the necessary specialized equipment to respond in the majority of emergency situations reported to it, including frequently used equipment in its regional branches and three mobile laboratories that can be immediately dispatched to the site of a major disaster.
In the event of a major environmental emergency, the provincial government response is coordinated by the Organisation de la sécurité civile du Québec.
Pipeline companies operating in Quebec regularly conduct, on a voluntary basis, emergency response exercises in the field. These exercises normally involve the deployment of emergency equipment and the participation of first-line responders. The government departments and agencies likely to be called upon in the situation attend as observers.
Liability and Compensation
The Civil Code of Quebec contains provisions regarding unlimited civil liability, and duty to meet contractual obligations.
For this reason, over-the-counter forward contracts for hydrocarbon transportation, storage or distribution services usually require valid and current general liability insurance covering personal injury and damage to property and contractual liability, civil liability insurance as well as environmental liability insurance issued by recognized insurers.
Since March 31, 2007, the Quebec government's consolidated financial statements have included an environmental liability associated with the costs of contaminated site remediation. As of March 31, 2013, this liability was estimated at $3.2 billion.
Disclaimer:
Users are reminded that this publication has no legislative sanction. It has been consolidated for convenience of reference only. Original Regulations should be consulted for all purposes of interpreting the law.