Taking a Community Approach
PDF Version (PDF, 1959 KB) | Next Page
Implementing Integrated Community Energy Solutions (ICES) requires contributions from a range of non-government stakeholders and local governments, supported by the federal, provincial and territorial governments. The ICES approach exploits synergies across multiple sectors through the use of building blocks. Adoption of ICES is affected by drivers influencing community energy use as well as barriers compromising implementation.
The built community environment encompasses multiple sectors that, in most communities, function largely independently of one another. Integrated Community Energy Solutions (ICES) exploit opportunities that come from treating the built community environment as a system.
By addressing the synergies that come from integrating sectors and taking advantage of cross-cutting opportunities at the community level, savings beyond those available in the individual sectors can be achieved.
Most importantly, the benefits of ICES investments go beyond more efficient resource use and reduced emissions. They include a wide variety of social, economic and environmental advantages, including more livable cities and a better quality of life for citizens, improved air and water quality, local economic stimulation and increased competitiveness, reduced exposure to fluctuations in energy prices and increased attractiveness to new investment.
Key Players and Their Roles
Advancing ICES requires the involvement of many players. Each has a critical role to play.
Local governments (including municipalities, regional governments and First Nations) are key actors because their zoning, policy and investment decisions have a huge influence on ICES development. They usually approve ICES installations and provide leadership at the community level.
Provincial and territorial governments are important players because they define the legislative frameworks under which municipalities operate. They are responsible for much of the regulation of the energy resources sector and can greatly influence the capacity of utilities and energy companies to actively support ICES. They also provide education and training opportunities, undertake research, create decision-support tools and make direct investments that can encourage ICES.
The Government of Canada, through various departments and agencies, can provide information, conduct research and development and play a coordination and facilitation role, helping the jurisdictions collaborate and avoiding duplication.
Developers and other private enterprises are critical implementers of ICES. With governments fostering a positive environment for ICES, developers and industry will find the business models, acquire the capacity and collaborate with local governments to make widespread ICES a reality.
Energy companies, utilities and regulators provide the energy supply and services that are essential to ICES. These solutions generate new opportunities and business models for utilities and competitive energy service providers, which energy regulators will wish to address. These players are critical to the ICES future because of their ability to attract investments and because of their ownership and oversight of integrated solutions using the conventional grid/fuel infrastructure, local energy production, renewable energy systems, storage, district systems and more.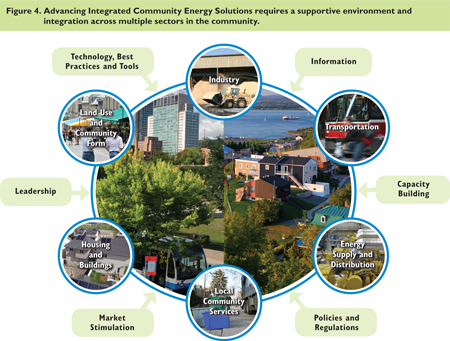 Other ICES enablers work to create the environment where there is public support for ICES and the capacity to deliver. These include professional and industry associations, education organizations, and non-governmental organizations. Community members, through their choices as citizens and consumers, also play a central role in advancing ICES.
Sectoral Building Blocks
Within each sector, there are technologies and techniques that can contribute to realizing the cross-cutting opportunities that make up ICES. Bringing these building blocks together can result in synergies that achieve otherwise unattainable levels of energy performance. The building blocks in this section highlight some of the technologies and techniques within each sector that can enable communities to leverage these synergies as they build their own tailored solutions.
Energy Supply and Distribution. These systems can connect energy users with the best energy source for each job, combining on-site renewable sources and interconnection with grid distribution systems. Key elements include heat recovery and energy cascading, harnessing local renewable energy resource potential, district energy systems, decentralized energy systems, grid management initiatives and community thermal and electrical storage.
Transportation. Transportation services and transportation infrastructure can facilitate the efficient movement of people and goods by enabling residents and businesses to choose the best modes for each trip and by ensuring that goods move efficiently throughout the community. Opportunities include focusing development near cores and nodes; transit-oriented development; infrastructure for cyclists, pedestrians and alternative fuel vehicles; multi-modal hubs; and efficient freight transportation.
Housing and Buildings. Housing and buildings can provide highly livable and efficient shelter for people and businesses that is connected with appropriate energy sources. In this sector, high levels of energy efficiency, strategic integration of active and passive renewable energy technologies, optimized design for connection to local micro grids and low-exergy community energy systems that use waste heat and renewables can all contribute to ICES.
Industry. Businesses can be involved in ICES as energy consumers, energy producers and suppliers of waste heat. They can also supply organic waste and other opportunity fuels for the generation of clean energy. Additional opportunities include energy cascading and heat recovery, low energy/exergy facilities, strategic integration of renewable energy technologies and clean, renewable fuels.
Local Community Services. Community services can exploit opportunities for energy efficiency, heat recovery and efficient energy production. These opportunities include efficient infrastructure such as street lighting; pumping and treatment of water and sewage; waste management, including waste minimization; increased recycling; and energy production from both organic and residual waste. Another key element is efficient local government operations (e.g. buildings, fleets, snow removal and green space management).
Land Use and Community Form. While not under the purview of energy departments, land use and community form create the foundation of viable ICES. Over time, street patterns and shapes, population densities, community design and building types can be modified to establish supportive conditions for ICES. Solutions include an increased selection of businesses and services within walking or cycling distance, improved transit service and the systematic integration of active and passive renewable energy technologies.
An Enabling Environment. While policies, programs, regulations and tools do not form a sector in and of themselves, they contribute to the synergies necessary for achieving otherwise unattainable levels of energy performance in communities. More about the key enabling elements that can be used by federal, provincial and territorial governments can be found on page 20.
Cross-Cutting Opportunities

Footnote

10
Improve efficiency. Reduce the energy input required for a given level of service.
Optimize community form. Use land-use decisions to reduce and concentrate energy demand, support efficient transit and facilitate the integration of renewable energy sources.
Increase complementary mixed uses. Locate activities to enable performance gains from the generation, distribution and transportation sectors.
Optimize "exergy." Match energy quality to the applications (see sidebar).
Manage heat. Capture all feasible thermal energy and re-use it, rather than exhaust it.
Reduce waste. Use all available resources, such as landfill gas and municipal, agricultural, industrial and forestry wastes.
Use renewable resources. Tap into local solar, wind and geothermal energy.
Use grids strategically. Optimize electrical, fuel and thermal grid use from all sources and ensure reliability.
Exergy deals with quality of energy and using the right quality of energy for the right application.
For example, why burn fuel at high temperatures to heat a building when cascading residual heat from an industrial process or using low-temperature heat from solar systems can do the job?
ICES manage energy and exergy for optimal energy performance.
Forces Affecting ICES Implementation
It is recognized that a number of forces affect ICES implementation and need to be taken into consideration to ensure the effectiveness of collective efforts to accelerate the uptake. These forces include drivers that directly affect how energy is used in communities as well as barriers that impact the widespread adoption of ICES. In developing and implementing strategies to advance ICES, jurisdictions should consider these forces.
Drivers Influencing Energy Use in Communities
Energy and land availability. Community development patterns over the past several decades have been driven by the availability of low-cost energy and land resources. Higher energy and land prices will drive more efficient energy use, but price signals alone will not achieve the ICES vision because of their complex interaction with other drivers.
Technology. Modern energy and transportation systems have already displaced access to wood and water that were once key drivers of community size, shape and location. Other emerging technologies (including information technologies and renewable energy technologies) will shape communities of the future.
Demographics. By 2020, up to 85 percent of Canada's growing population and the vast majority of jobs will be located in major urban centres. In the past, urbanization led to urban sprawl and dependence on personal vehicles, but with appropriate government policies, communities of the future can evolve toward more efficient configurations.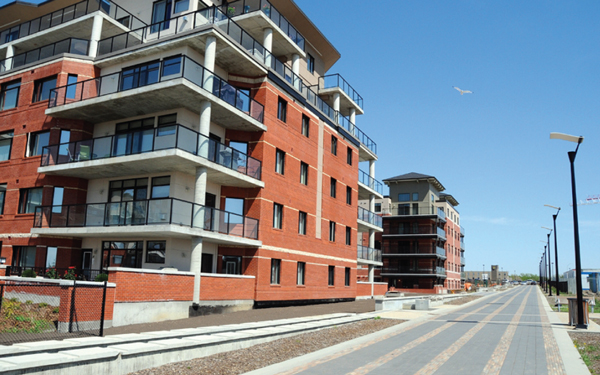 Rural and northern communities. Even with rapid urbanization, roughly one fifth of Canadians still live in small rural and northern communities, many of them with resource-based economies. Even in small towns, there is sufficient density and opportunity for ICES. Further, new opportunities for renewable energy can strengthen local economies by creating jobs and reducing financial outflows for the purchase of energy.
Energy security. Energy is increasingly viewed as a strategic resource within communities, due to the risks and costs of service disruptions. This consideration makes a desire for secure and reliable energy an emerging driver of ICES that make communities less susceptible to system-wide failure.
Infrastructure renewal. Communities across Canada are in need of infrastructure renewal. The investments needed to replace aging infrastructure will create opportunities to facilitate the introduction of ICES.
Consumer preferences. Consumer choices have contributed to shaping today's communities. Consumer preferences are changing, and there is a strong move toward alternatives that are economical as well as beneficial to the environment and quality of life. ICES will give citizens new choices that can address consumer demand for energy efficiency, affordability and convenience.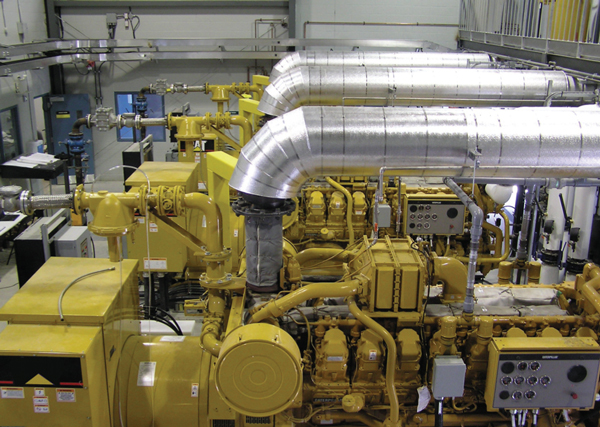 Climate change. Growing concern about climate change is driving interest in solutions that can achieve the deep reductions needed to stabilize global climate conditions. Communities have also started to consider how ICES can help them adapt to climate change, for example, by helping decrease vulnerability to extreme events through more resilient energy systems.
Barriers to Implementation of ICES
Decision making and inter-jurisdictional complexity. The complexity of decisions required at all stages of ICES planning, development and implementation challenges the existing decision-making structure. Decisions are technically complex, involve multiple stakeholder groups and cross departmental and jurisdictional boundaries. Few tools exist to support multi-stakeholder decision making.
Poor understanding of the ICES potential. There is little awareness among key stakeholders of the potential for ICES to help achieve national greenhouse gas (GHG) and energy efficiency goals. This is partly because best practices are not well documented, and the benefits are not adequately quantified. The business case for ICES implementation is also not well articulated.
Shortage of ICES experience and expertise. Canada has little experience with fully integrated ICES. The lack of on-going projects inhibits the development of the technical expertise needed to lead new projects or nurture the expertise that governments need to undertake financial, technical and strategic analysis of ICES.
Inadequate policy and regulatory support. Existing policy and regulation frameworks are not well suited to promoting ICES. Moreover, ICES initiatives may fall victim to uncoordinated or conflicting policies and regulations, or get caught in jurisdictional gaps. ICES proposals also face competition from other government priorities.
Limited support for research and development, demonstration and deployment. Current levels of funding for research and development, demonstration and deployment programming will not support the rapid transition necessary to deliver on the potential of ICES.
Limited integration of energy considerations in community planning. Provincial and territorial legislation and polices do not generally require community planning processes to fully address energy issues. Community energy plans are not required in most jurisdictions. The lack of mandatory community-specific GHG reduction targets weakens the signal for local authorities to fill this gap.
Shortage of accessible data and analysis tools. Locating and assembling the information needed to identify, evaluate, select and implement ICES can be costly and time-consuming. Relevant community-level data are often not available, and those that are collected are often not reported in a way that supports community energy planning. Moreover, the tools to identify and analyse opportunities for ICES are not available to all communities.
Demographic barriers. In several regions of Canada, many smaller communities are faced with a decline in population. Implementing ICES in these circumstances can be challenging because these communities may not have the resources to make significant changes.
Cultural barriers. To succeed, the implementation of ICES will have to account for the cultural preferences of Canadians, ensuring that the features, advantages and benefits of ICES create positive consumer choice and transition, as appropriate.