Making It Happen
PDF Version (2.0 Mb) | Next Page
Integrated Community Energy Solutions (ICES) promise to yield substantial improvements in energy performance and greenhouse gas emissions reductions. Federal, provincial and territorial governments could support ICES implementation through the use of various enabling tools, as appropriate to each jurisdiction, and through inter- and intra-jurisdictional cooperation.
Overarching Strategies
To support the adoption of Integrated Community Energy Solutions (ICES) in Canada, federal, provincial and territorial governments can pursue their own strategies, taking into consideration their specific circumstances. The following are overarching strategies that could guide the development of supportive environments for ICES.
Cooperate with other jurisdictions. In advancing ICES, federal, provincial and territorial governments could benefit from working together to establish coordinated and complementary strategies.
Lead within own jurisdiction. Energy departments could also play a leadership role within their own areas of influence while working collaboratively with other departments.
Adopt both a holistic and an incremental approach. The transition to ICES requires the development of solid holistic planning foundations on which to move forward. However, while these foundations are being established and even afterward, the implementation of ICES will be through incremental transformation of communities, one project, block, neighbourhood, facility or transit system at a time.
Empower local governments. Local governments have a leadership role to play in implementing ICES. Federal, provincial and territorial governments could facilitate this role by creating a supportive environment, which could address authority, capacity and resource challenges facing local governments.
Establish a market transformation framework. Facilitate the transition of communities across Canada with a comprehensive market transformation framework to realize the full potential of ICES.
A Three-Phase Transition Approach
Communities that are just beginning the process of implementing ICES can benefit from lessons learned by Canadian communities that have overcome the challenges associated with ICES implementation. International experience with ICES, especially in Europe, also demonstrates the feasibility of ICES and provides models for communities to follow.
To facilitate the transition to a new business-as-usual environment where ICES are the norm, a three-phase approach is proposed. Tools described in the "Menu of Enabling Tools" (on page 21) may be included in these three phases by jurisdictions as they develop their own strategies. Examples are provided here to illustrate the proposed approach.
Phase I: Quick Starts for Early Impacts (2010–2015), in the short term, could begin with quick-start projects as well as large-scale demonstration and pilot projects that deliver early results, provide lessons learned and set the stage for future broader application of ICES. For example, more projects similar to those highlighted in this document may result when communities are encouraged to take advantage of existing programs and by adjusting other programs to increase support for ICES. This phase could also lead to a marked increase in the number of communities developing community energy plans or local action plans that incorporate a specific focus on ICES. These plans are essential to identifying opportunities, supporting the development of business cases for ICES projects and preparing for the acceleration called for in Phase II. Establishment of community level targets, like those required in British Columbia's Local Government (Green Communities) Statutes Amendment Act, could also help lay the foundations for future phases. Creation of a network of experts could support the development of information and best practices as well as the sharing of ICES expertise that could help all three phases.
Phase II: Acceleration (2010–2020) has a medium-term focus but could also start to establish the foundations necessary for the acceleration of ICES implementation. This acceleration is important if ICES are to make a significant contribution to the 2020 climate change and energy efficiency targets. Activities for this phase could include the development of programs, policy and regulations that support large-scale adoption of ICES and create a supportive environment for private sector investments; research to improve the quantification of the benefits of ICES and to prepare business cases; and increased support for research and development activities aimed at validating and improving existing technologies as well as the development of tools to support ICES decision making.
Phase III: Large-Scale Adoption (2020–2050) has a long-term focus but could also start now with actions to develop the next generation of ICES technologies, offering the prospect of new opportunities and facilitating the large-scale adoption of ICES. Activities for this phase could include policies and regulations that can be phased in over time; long-term funding covering all stages of the innovation cycle to support the development of the next generation of ICES methods and technologies; and ICES training programs and certification processes to facilitate rapid adoption of the next generation of ICES technologies.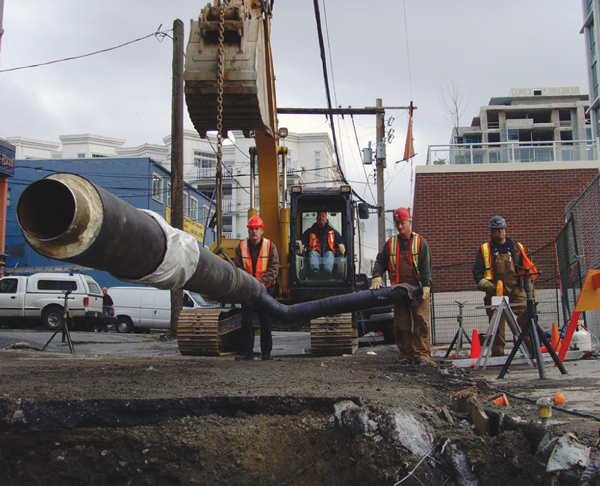 Fostering and Enabling
To advance ICES, the enabling tools listed below are organized according to the Market Transformation Framework elements from Moving Forward.
Policies and Regulations. Policies and regulations for areas such as planning and land use, energy, buildings, and taxation shape how communities look and operate. Effective policies encourage local authorities and other decision-makers to integrate energy, land-use, transportation and infrastructure considerations.
Technology, Best Practices and Decision-support Tools. Reliable, high-performance technological solutions are needed to maximize the effectiveness of ICES and facilitate wide-scale adoption. The development and validation of new technology, including the tools that facilitate analysis of alternatives and guide decision-makers, are important. The results of pilot and demonstration projects verify performance and can be disseminated to increase knowledge of the available technologies, best practices and tools.
Information. High quality, community-level standardized energy measurement and information is important for understanding evolving energy use. It supports target-setting, decision making, communicating priorities to stakeholders, quantification, progress reporting and evaluating the success of ICES initiatives.
Capacity Building. Decision-makers, professionals and technicians require the capacity to understand, identify, evaluate and implement ICES opportunities. This includes access to the analytic capacity to evaluate costs and benefits and to the technical and process capacity to design and implement solutions.
Leadership Opportunities. Advancing ICES on a wide scale requires the active engagement of leaders at all levels of governments and across a wide range of stakeholder groups. These leaders could be supported in developing their visions of how ICES opportunities can be realized within their own organizations and at the community level. Working together, leaders can also develop networks and collaboratives to accelerate progress. Governments could also provide leadership by implementing ICES within their own facilities.
Market Stimulation. Market stimulation can accelerate ICES uptake and help to manage the transition to wide-scale implementation. Market instruments can include government support for early adopters and large-scale piloting, incentives, mechanisms to underwrite liability, long-term funding commitments for R&D activities, supportive energy rate structures and a commitment to support commercialization of proven technologies. Financial tools to understand and manage risk, promote market recognition and create increased perceived value by customers can all encourage the wide-scale uptake of ICES.
Menu of Enabling Tools
Experience in Canada and abroad has identified practical tools that the federal, provincial and territorial governments can use to realize the potential of ICES. A list of two dozen such tools is provided below, organized under each element of the Market Transformation Framework. Jurisdictions could prioritize and choose from this list to support their own strategies and to achieve their own short- and long-term objectives. They could also add tools specifically designed for their specific environments, as some of the tools described below may not be appropriate for all jurisdictions. The tools listed under each element could be used in combination to maximize contribution to the three phases of transition.
Policy and Regulation
Analysis to Support Policy Development
Support modelling work and review existing ICES initiatives to explore potential for replication. Document the drivers and rationale for ICES implementation and develop model business cases. Conduct economic studies of pricing mechanisms for ICES.
Energy and Climate Change Plans
Recognize the role of communities in federal, provincial and territorial government strategies and plans, and coordinate related goals for 2020 and beyond. Ensure that community plans are in place to help deliver on these goals.
Policy and Regulation
Undertake coordinated policy and regulation reviews to drive the development of a supportive environment for ICES. Examples are provisions for ICES in municipal acts, measures allowing utilities to encourage ICES, enabling local governments to designate areas for ICES promotion or to apply local improvement charges or tax reductions, setting efficiency requirements and interconnection standards for small community energy systems and developing and mandating interconnection standards for community power generation.
Cooperation Across Jurisdictions
Explore ways in which regulations and policies can be better aligned to foster the adoption of ICES.
Model Community Energy Guidelines
Develop a standardized framework that communities could reference when establishing requirements for achieving varying community energy targets, for example, by creating model energy guidelines for communities.
Technology, Best Practices and Decision-support Tools
Research, Development, Demonstration and Deployment
Provide long-term funding covering all stages of the innovation cycle to support both the current and the next generation of methods and technologies.
Quantification
Develop standardized measurement methodologies for ICES initiatives, including standards for measuring energy flow, greenhouse gas emissions and other outcomes at the community level.
Decision-support Tools
Develop a suite of tools and supporting data services for different community types that can be used at all stages in the decision-making process. Examples could include an EnerGuide for Communities labelling system (based on "Quantification," above), energy mapping tools, simulation tools, integrated planning processes and fully integrated Geographic Information Systems tools to enable spatial analysis of community energy profiles.
Technology Validation
Develop programs and procedures for validating the effectiveness of ICES technologies to ensure that expected benefits are achieved from investments.
Networking
Establish a network of experts to support the development of information and best practices and the sharing of ICES expertise.
Information
Decision-making Support
Collect and publish high-quality information to support decision making and energy planning as well as ICES business cases. This information could include community energy profile data and performance data from existing ICES projects.
Outreach
Publicize success stories from existing ICES projects through information products and campaigns to educate stakeholders and promote market acceptance.
Capacity Building
Partnering
Partner with existing and well-established organizations to deliver webinars, workshops, conferences and site visits allowing exchanges of ICES experience that will develop or strengthen the capacity of key players to implement ICES.
Certification
Support the establishment of ICES training programs for those involved in their development and implementation (e.g. planners, engineers, tradespeople) as well as the development of certification processes for these programs.
Leadership Opportunities
Leadership by Example
Demonstrate leadership by implementing and leveraging ICES within their own operations.
Collaboration and Recognition
Support and recognize individuals, organizations and collaboratives that provide ICES leadership, such as local leaders, the Federation of Canadian Municipalities and Quality Urban Energy Systems of Tomorrow (QUEST).
Market Stimulation
Risk Management
Establish mechanisms to manage/reduce risks associated with ICES projects to compensate for technical complexity and long implementation cycles. Examples are underwriting liabilities for some projects and guaranteeing prices for energy purchases.
Coordinate Existing Mechanisms
Coordinate/adjust existing government market instruments. Investigate how existing funding, financing and delivery mechanisms could be better coordinated and potentially adjusted to support ICES. For example, ICES funding options could be integrated into existing infrastructure renewal and fiscal stimulus packages.
Incentives
Use fiscal incentives to improve the financial performance of ICES projects. Examples are tax credits and accelerated depreciation for ICES investments.
Facilitate Energy Rate Structures That Support ICES
Set energy rate structures to support ICES through price premiums for ICES-generated energy, inclusion of ICES investment by utilities in their rate base and decoupling of profit from sales for energy utilities.
New ICES Programs
Explore the development of new targeted programs (e.g. incentives, tax credits, financial mechanism to underwrite liability) to support the broad adoption of ICES, as a complement to sector-specific programs.
Business Models
Encourage the development of business models that will facilitate the introduction of ICES, such as micro-utility ownership, municipal ownership, local distribution company ownership, community-owned cooperatives and public-private partnerships.
Demand Management
Encourage development of utility demand-side management programs that focus specifically on ICES.
Market Recognition
Build ICES market recognition through initiatives that recognize success stories and encourage incorporation of ICES in rating systems, such as the Canada Green Building Council's Leadership in Energy and Environmental Design (LEED TM) for Neighbourhood Development rating system.