Learning From Successful Communities
PDF Version (1.9 MB) | Next Page
Across Canada and around the world, communities are beginning to take advantage of cross-cutting opportunities and are beginning to implement Integrated Community Energy Solutions (ICES). Governments at various levels are creating programs to support implementation, and numerous organizations are working to further develop these ideas. Collectively, these activities provide valuable learning about how a shift toward the wide-spread adoption of ICES can be carried out – including new technology solutions, decision-making processes and business models.
Canadian Examples
Canadian examples can be found in communities large and small, including existing neighbourhoods and new developments that are implementing Integrated Community Energy Solutions (ICES) with support from governments of all levels. Most of these examples are achieving integration across two or three sectors, and a few are addressing many sectors. These particular showcases have largely come to fruition as the result of leadership by champions who are exploring new ways to improve overall energy performance in communities. Beyond demonstrating and validating new technology and novel uses of existing technology, these examples are enabling the identification of barriers and the development of new approaches that nurture innovation.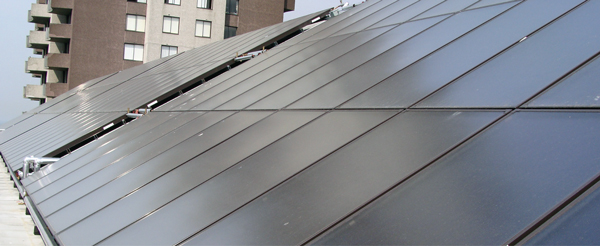 Small and Rural Communities
City of Dawson Creek, British Columbia, is a small community that has completed a comprehensive energy plan for the community and implemented such innovations as building audits and retrofits, light-emitting diode (LED) traffic lights, a solar-ready bylaw, training, energy program promotion and, potentially, local improvement charges.
Colonsay Sports Centre, Town of Colonsay, Saskatchewan, captures the waste heat from creating ice for the skating and curling rinks to heat the waiting room and the observation area.
Drake Landing Solar Community, Okotoks, Alberta, features R-2000* homes incorporating low-exergy systems, solar district heating, seasonal borehole thermal energy storage and short-term thermal storage. This is a technology pilot with multiple partners, including Natural Resources Canada, the Federation of Canadian Municipalities, the municipality, the builder, the developer and a private gas utility.
Hairy Hill Integrated BioRefinery, Vegreville, Alberta, is a technology pilot using anaerobic digestion to produce biogas from manure from a large feedlot. The biogas is in turn used to generate electricity and, soon, to manufacture ethanol.
Oujé-Bougoumou District Heating, Oujé-Bougoumou, Quebec, provides village-wide heating to efficient homes and buildings using wood waste (biomass) as the fuel source and hot water as the energy transfer medium. This technology forms part of the ongoing community revitalization and self-sufficiency efforts.
Thermal Park, Senneterre, Quebec, will be recovering waste heat from an existing cogeneration unit and redistributing it to farming, agri-food, agro-industrial and processing applications – including greenhouses. This approach will increase the diversity of the local economy, which is mainly based on the development of natural resources.
Medium-Sized and Large Communities
City of Guelph, Ontario, is a medium-sized community with a community energy manager and a comprehensive community energy plan developed by a consortium and implemented through a number of initiatives led by various stakeholder groups, including landfill gas-generating electricity.
District Energy System, Charlottetown, Prince Edward Island, uses both sawmill waste and municipal solid waste to provide heat to more than 80 buildings and to generate electricity. Charlottetown has substantially reduced its dependency on imported oil, retained more energy dollars in the community, created new opportunities for sawmill operators and reduced greenhouse gas (GHG) emissions.
Dockside Green, Victoria, British Columbia, is a high-density, mixed-use harbour front brownfield re-development with a biomass gasification district heating system. The first-phase buildings have achieved Leadership in Energy and Environmental Design (LEED TM) Platinum certification. The project was initiated under a municipal request for proposals and is serviced by a private multi-utility and partnerships with local industry.
Emerald Hills Urban Village, Strathcona County, Alberta, is a medium-density, mixed-use development with ongoing local government-developer collaboration through an integrated planning process.
Enwave Deep Lake Water Cooling, Toronto, Ontario, is a private district heating and cooling system that draws cold water from Lake Ontario to provide cooling in a high-density system that covers most of the city's downtown core and serves more than 140 buildings.
Lower Lonsdale Development, North Vancouver, British Columbia, is a mixed-use development with efficient new buildings and a district heating system using mini-plants (natural gas and solar thermal) that is operated by a public/private municipal utility.
Mole Hill, Vancouver, British Columbia, is a medium-density neighbourhood renewal project with building energy retrofits and strategic integration of individual ground-source heat pumps. It is an example of city-owned, affordable housing supported by community partnerships.
Municipal Energy Efficiency Program, Saint John, New Brunswick, includes energy retrofits to multiple municipal buildings, remote building energy monitoring, LED traffic lights, a photo-control time system for street lights, an energy-awareness program and energy management procurement procedures.
Sawmill Waste-to-Electricity Project, Middle Musquodoboit, Nova Scotia, is located within a sawmill plant, using biomass waste from its operations to provide the majority of the fuel for the facility's power and heat requirements. Surplus energy is sold to a local utility company.
National, Provincial and Territorial Initiatives
Arctic Energy Alliance, Northwest Territories, is a non-profit society with a mandate to help communities and other stakeholders work together to reduce energy and utility environmental impacts. It maintains a list of "Northerners Taking Action" to disseminate success stories.
British Columbia's Local Government (Green Communities) Statutes Amendment Act mandates GHG targets and establishes municipal authority to set energy requirements for new developments.
Building Canada is a federal government infrastructure funding program that includes the Gas Tax Fund, Green Infrastructure Funds and the Building Canada Fund, administered by Infrastructure Canada. The program requires the development of an integrated community sustainability plan in order to receive funding.
CanmetENERGY is the clean energy research and technology development centre of Natural Resources Canada. The centre leads and supports knowledge development in housing, buildings, renewable energy technologies, bioenergy, district heating, community planning, transportation and industrial processes.
The Community Energy Association provides communities in British Columbia with information and resources to support the development of community energy plans and community energy systems.
The EQuilibriumTM Communities Initiative will seek to improve community planning and develop healthy sustainable communities that are energy-efficient, economically viable and vibrant places to live. It will provide financial, technical and promotional assistance to sustainable community projects chosen through a national competition and showcase the talents and innovation of Canadian residential developers, planners, designers and municipalities. The initiative is being led and funded equally by Natural Resources Canada and the Canada Mortgage and Housing Corporation.
The Federation of Canadian Municipalities (FCM) Green Municipal Fund is a $550-million endowment from the Government of Canada to provide a long-term source of financing for municipal governments and their partners for the development of communities that are more environmentally, socially and economically sustainable.
Ontario's Green Energy and Green Economy Act, 2009 will make it easier to bring renewable energy projects to life and provides certainty for renewable project developers by providing a best-in-class renewable energy feed-in tariff (FIT). The FIT is a mechanism that provides a standard price that promotes the development of community-based and large commercial renewable energy projects and pays proponents a market-viable price for their projects.
Partners for Climate Protection (PCP), managed by the FCM, is a Canada-wide partnership of municipal governments that encompasses GHG targets, energy profiles and community energy planning. PCP assists nearly 200 Canadian cities in adopting policies and implementing quantifiable measures to reduce local GHG emissions, improve air quality and enhance urban livability and sustainability.
Quality Urban Energy Systems of Tomorrow (QUEST) is a collaborative of key players across Canada from industry, the environmental movement, governments, academia and the consulting community that is building support for an integrated approach to land-use, energy, transport, water and waste management in communities and urban centres in order to address energy end-use and reduce GHG emissions.
International Examples
While complete ICES remain in the early stages of development around the world, many countries are actively involved in ICES-related research, development and demonstration projects, and some have long-term experience with certain ICES elements. Adapting the international lessons learned to the Canadian context has been critical to the success of a number of leading initiatives in Canada. These initiatives, in turn, are contributing to the growing international body of ICES knowledge. A number of international organizations have worked to disseminate information about best practices. Canada, by investing in ICES, will be well positioned to take advantage of growing domestic and international markets.
International Examples
The International Energy Agency (IEA) recognizes the potential of ICES and has created reports that provide comprehensive reviews of the current state of knowledge. The IEA is working on Annex 51: Energy Efficient Communities: Case Studies and Strategic Guidance for Urban Decision Makers. Its objectives are to inform planners and decision-makers about the principles of holistic energy planning and to provide methods and instruments for implementation. This work complements ongoing and completed work in a broad range of areas in energy conservation and energy technologies for buildings and community systems.
More than 1076 cities, towns, counties and their associations worldwide comprise ICLEI – Local Governments for Sustainability's growing membership. ICLEI works with these and hundreds of other local governments through international performance-based, results-oriented campaigns and programs. A significant part of ICLEI's work focuses on community energy solutions. ICLEI partnered with the Federation of Canadian Municipalities to create the Partners for Climate Protection program in Canada.
In 2003, the International Gas Union conducted a competition that challenged countries to prepare a staged 100-year sustainable energy plan for a major metropolitan area. Canada's submission – which centred on Greater Vancouver (now Metro Vancouver) – resulted in Team Canada being awarded the Grand Prix at the International Competition on Sustainable Urban Systems Design in Tokyo in June 2003. It also resulted in Cities Planning for Long-Term Urban Sustainability, or citiesPLUS, a collaborative approach that has now been applied in 38 cities in 14 countries.
European initiatives incorporate some of the most advanced ICES concepts. For decades, Sweden has placed national priority on district heating systems, which now provide more than half of its residential space heating. Other examples are the BedZED in London, the United Kingdom; and the Western Harbourfront redevelopment in Malmö, Sweden. To accelerate work in this area, the European Commission has recently launched the CONCERTO initiative, which supports sustainable energy projects in 45 communities. The European Council and the European Commission are also active in developing policies and programs to support progress toward a sustainable built environment.
* R-2000 is an official mark of Natural Resources Canada. R-2000 is a system for building and certifying new homes to a higher energy efficiency standard, well beyond current energy codes.