Conclusion
PDF Version (1.9 MB) | Next Page
Integrated Community Energy Solutions can enable communities to dramatically improve energy performance, enhance quality of life and increase economic competitiveness, while contributing significantly to the achievement of federal, provincial and territorial energy efficiency and climate change targets.
Integrated Community Energy Solutions – A Roadmap for Action shows that capitalizing on synergies at the community level can improve energy performance and cut greenhouse gas emissions. The Roadmap follows in the steps of the Council's 2007 Moving Forward by stressing the importance of federal, provincial and territorial leadership and collaboration in obtaining these results. Supported by a stakeholder consultation process, it sets out a broad strategy for action and provides a Menu of Tools that federal, provincial and territorial governments can choose from, as they see fit, to complement existing sectoral energy efficiency activities.
While this document can help guide government efforts, success ultimately hinges on the engagement of many actors in local communities. The proposed three-phase approach is a framework for encouraging early action as well as medium- and long-term successes. The timetable recognizes the importance of establishing solid foundations and mechanisms to support accelerated uptake of Integrated Community Energy Solutions (ICES) to ultimately achieve large-scale adoption. It also recognizes the benefits of ongoing, incremental actions while holistic foundations are established. This approach could allow existing knowledge and expertise to produce results right away, while capacity continues to be built for transition toward the larger-scale implementation of ICES, contributing to Canadian communities' vibrancy, livability, environmental responsibility and prosperity.

Data gathered from a pilot plug-in hybrid electric vehicle support studies on impacts and opportunities. (City of Dawson Creek, British Columbia)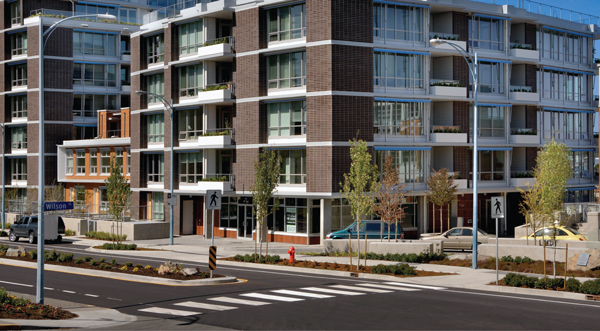 Energy-efficient buildings and higher density occupation reduce the infrastructure required for the biomass community energy system. (Dockside Green, Victoria, British Columbia)