Saskatchewan's Pipeline Regulatory Regime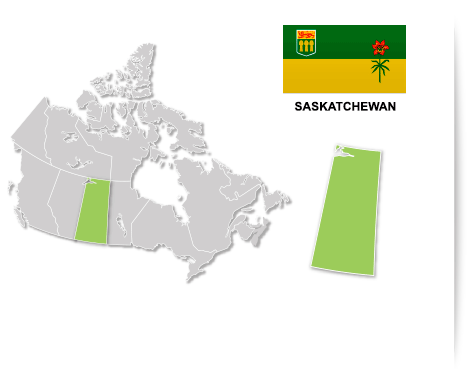 75 transmission pipeline companies regulated

102,400 km of provincial pipelines and flowlines

82.5% of crude oil shipped by pipeline (2013)

66 inspections of licensed pipelines (2013)
A product of the Energy and Mines Ministers' Conference
Provincial Pipeline Regulator
Saskatchewan's Ministry of the Economy (Ministry) advances and regulates responsible resource development in the province.
Transmission pipelines are licensed in accordance with The Pipelines Act, 1998 and the associated regulations. Although Saskatchewan flowlines are not licensed, The Pipeline Regulations, 2000 requires that they must be designed, constructed, operated, and maintained in accordance with applicable Canadian Standards Association standards for oil and gas pipeline systems.
The Ministry is reviewing the merits of the pipeline legislation and considering licensing flowlines.
Prevention
The Ministry ensures that the design, construction, testing, operation, maintenance and repair of pipelines comply with applicable Canadian Standards Association specifications.
Pipeline licensees in Saskatchewan are required to develop and implement pipeline integrity and safety management programs to identify, manage, monitor, and address any potential hazard associated with each individual pipeline.
The Ministry conducts proactive and random inspections and audits on pipeline construction, pressure tests, and operations.
The regulator has a range of enforcement options to ensure compliance, ranging from administrative penalties to monetary penalties, including warning letters, suspension or cancellation of a licence, and fines.
Preparedness and Response
Saskatchewan requires that every operator immediately notify the Ministry of any spills, fires, or other failures, except where the volume of oil, salt water or other product released is less than 1.6 cubic metres and is contained on property that the operator owns or leases.
All pipeline operators are required to have and maintain up-to-date emergency response plans, accessible to all operating and maintenance personnel, which set out the actions to be taken and the agencies and individuals to be contacted in the event of a rupture, break, leak or fire.
In the case of an incident, pipeline operators are required to clean up and remediate the site. The Ministry conducts field inspections, requires written reports from the operator, and closely monitors post-incident remediation. Six oil spill co-ops in Saskatchewan also provide immediate emergency response capabilities to operators, including specialized equipment, infrastructure, and personnel, should a release occur.
Liability and Compensation
Saskatchewan holds all licensees responsible for spill clean-up and remediation regardless of fault. Should an incident occur, the operator is required to take immediate action according to the established emergency response plan.
Saskatchewan's Oil and Gas Orphan Fund was established to address abandonment, decommissioning, and clean-up of wells and facilities where the obligations of those responsible are not being met. The Oil and Gas Orphan Fund is fully funded by licensees in the program through fees and levies. No funds are available for licensed pipelines.
Disclaimer:
Users are reminded that this publication has no legislative sanction. It has been consolidated for convenience of reference only. Original Regulations should be consulted for all purposes of interpreting the law.