Quebec's Electric Reliability Framework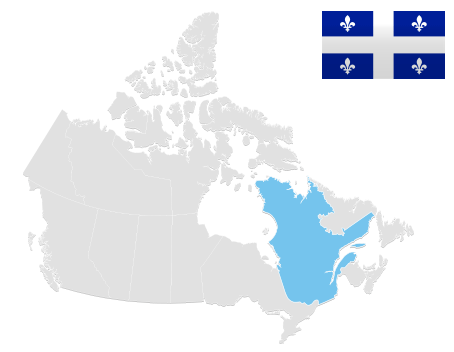 A product of the Energy Mines Ministers' Conference
Quebec's Fast Facts (2015)
Installed Capacity

Footnote

1
41,556 MW
Annual Generation
206 TWh (2014)
Annual Consumption
171 TWh
Customers
~ 4.2 million
Annual Exports
23.5 TWh
Annual Imports
0.27 TWh
Transmission System length (> 69 kV)
~ 30,717 km
Interconnections with New England, New York, Ontario, New Brunswick, Newfoundland and Labrador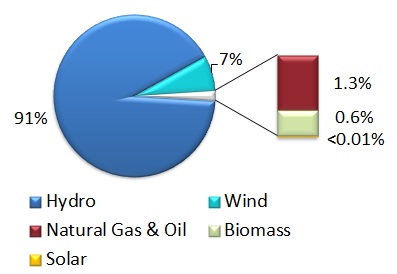 The vast majority of electricity generated in Quebec is from renewable sources.
Hydro-Quebec, the Province's largest supplier, generates more than 99% of its electricity from water.
Key Organizations
The ministère de l'Énergie et des Ressources naturelles (the "Ministry") is responsible for, among other things, setting the policy and legislative framework for Québec's electricity system. The Ministry develops solutions and advises on all aspects of energy policy for Québec, including electricity, natural gas and oil.
The Régie de l'énergie (the "Régie") is an independent, economic regulation agency that regulates the province's electricity and natural gas sectors in the public interest. Pursuant to its governing legislation, the Act respecting the Régie de l'énergie (the "Act"), it has the authority to establish, monitor and enforce a mandatory regime of reliability standards for electricity transmission in Québec.
Hydro-Québec generates, transmits and distributes electricity. Its sole shareholder is the Québec government.
Electric Reliability Framework in Quebec
Quebec is part of the North American Bulk Electric System, with significant interconnections to the United States and neighbouring provinces. Quebec recognizes the North American Electricity Reliability Corporation (NERC) and the Northeast Power Coordinating Council (NPCC) as experts in the development and monitoring of electric power transmission reliability standards. The 2014 Agreement on the Implementation of the Québec Reliability Standards Compliance Monitoring and Enforcement Program, among the Regie, NERC and NPCC, sets out the mandate that the Regie has granted NERC and the NPCC for the implementation of Quebec's Reliability Standards Compliance Monitoring and Enforcement Program. The Program defines the framework used by NPCC to provide opinions, observations and recommendations to the Régie regarding the enforcement of the Reliability Standards within Québec, mitigation plans and remedial actions, where applicable.
Hydro-Québec TransÉnergie operates the Quebec transmission system, markets system capacity and manages power flows across Québec. Within TransEnergie, the Contrôle des mouvements d'énergie is designated by the Regie as the Reliability Coordinator, responsible to oversee the reliable operation of Quebec's electricity grid.
For more information related to how electric reliability standards are reviewed, adopted, monitored, and enforced in Quebec, please go to the Quebec Provincial Summary which is currently available on the NERC website: Provincial Summaries.
See the top of the page for other provinces or territories.