British Columbia's Electric Reliability Framework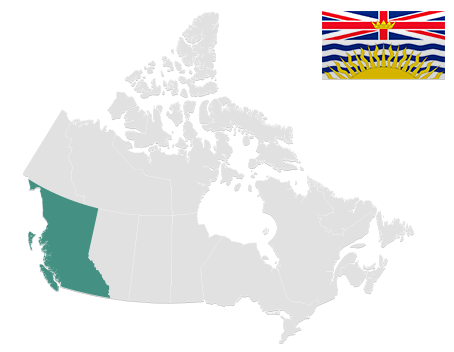 A product of the Energy Mines Ministers' Conference
British Columbia's Fast Facts (2014)
Installed Capacity
17,475 MW
Annual Generation
63,648 GWh
Annual Consumption
NA
Customers
~ 2.1 million
Annual Exports
9,661 GWh
Annual Imports
9,751 GWh
Transmission System length (≥ 69 kV)
~ 20,000 km
Interconnections with Alberta, Washington State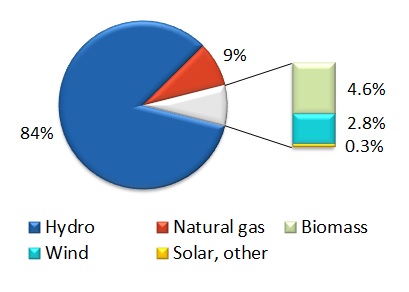 BC Hydro's Site C Clean Energy Project, currently under construction, will provide 1,100 megawatts (MW) of capacity, and produce about 5,100 gigawatt hours (GWh) once complete.
Key Organizations
The BC Utilities Commission is an independent regulatory agency of the Provincial Government. The Commission's primary responsibility is the regulation of British Columbia's natural gas and electricity utilities.
The Ministry of Energy and Mines is responsible for British Columbia's electricity, alternative energy, mining and mineral exploration sectors. The Ministry is responsible for a number of Crown Corporations including British Columbia Hydro and Power Authority and Columbia Power Corporation.
British Columbia Hydro and Power Authority (BC Hydro) is the largest electricity utility in the province. In addition to generation, transmission and distribution of electricity for 1.9 million customers, BC Hydro is the provincial Balancing Authority and the largest Transmission Operator.
Electric Reliability Framework in British Columbia
British Columbia is part of the North American Bulk Electric System.
The 2007 BC Energy Plan states that British Columbia will remain consistent with North American transmission reliability standards.
In 2008, amendments to the Utilities Commission Act (UCA) created a mechanism for introducing mandatory reliability standards for British Columbia's Bulk Electric System. Under the UCA, the BC Utilities Commission must adopt standards required to remain consistent with North American standards, unless the Commission considers those standards not to be in the public interest.
The BC Utilities Commission's mandatory reliability standards page provides further information and links related to standards adopted in British Columbia.
North American standards are those developed by either the North American Electric Reliability Corporation (NERC) or the Regional Entity for the Western Interconnection, the Western Electricity Coordinating Council (WECC).
For additional information related to how electric reliability standards are reviewed, adopted, monitored, and enforced in British Columbia, please go to the British Columbia Provincial Summary which is currently available on the NERC website: Provincial Summaries.
See the top of the page for other provinces or territories.