Guide to room air conditioners
Choosing an efficient room air conditioning unit will help keep you cool and save energy as the weather heats up. Here are some important factors to consider when buying a new AC.
—
If your space doesn't have air conditioning, things can get uncomfortable quickly as the weather warms up. A room air conditioner is a convenient and cost-effective solution to help you stay cool. Since they require no ductwork, there is no need for a complex installation process. They work like a small version of a central air conditioner but they cool only a small area, usually one room. If you want to stay cool all summer, here's what to look for in a room air conditioner:
Sizing considerations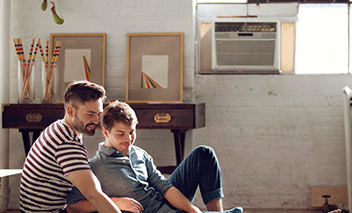 Bigger isn't always better when it comes to room air conditioners. Air conditioners remove both heat and humidity from the air, but if the unit is too large, it will cool the room, before it removes the humidity, leaving your room feeling damp and clammy. To achieve the greatest, energy-efficient savings possible here is one very important consideration: choose an air conditioner that's the right size for your space. Here's how to figure out the right size to meet your needs:
Determine the size of the room you'd like to cool, in square metres.
As a general rule of thumb, 200 British Thermal Units (BTUs) per hour of room air conditioner capacity is required to cool and dehumidify each square metre of living space. You can consult the sizing chart in this infographic for more information.
Once you know what capacity you need, consider the general placement and conditions of the space. You might need to adjust your capacity needs if:

The room is heavily shaded, reduce capacity by 10%.
The room is very sunny, increase capacity by 10%.
There are usually more than two people in the room, add 600 BTUs for each additional person.
The unit will be used in a kitchen, increase capacity by 4,000 BTUs.
Different types
ENERGY STAR® certifies two different models of room air conditioners: window mounted units (the most common), and wall mounted units. Both models are powered by electricity and transfer heat from the living space to the outdoors, making it possible to maintain comfortable conditions indoors during hot, humid weather. Unlike a central air conditioner, all components are built into a single package that can be mounted in a window opening or through an exterior wall. Smaller capacity room air conditioners are portable, and are easy to move from one room to another. ENERGY STAR certified room air conditioners use 10% less energy than standard models and come with higher quality insulation for even more comfort and savings.
Special features
Once you know the size and type of unit that is best for you, there are a few other benefits may want to think about:
Environmentally friendly: ENERGY STAR certified units offer special energy-saving technology that will help you lower your carbon footprint and energy bills.
Variable speed technology: In a conventional room air conditioner, the compressor typically alternates frequently between maximum capacity and off. ENERGY STAR certified room air conditioners with efficient variable speed compressors vary the speed of the motor in order to control the temperature continuously. This allows the room air conditioner to operate more quietly and it saves a significant amount of energy.
Connected functionality: ENERGY STAR certified models with connected functionality offer even more convenience, comfort, and savings by giving you the ability to turn off the unit remotely, schedule temperature changes, and even receive feedback on how much energy your unit is using.
Extra energy savings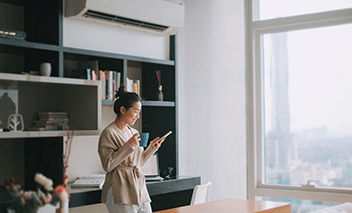 Regular maintenance can also help reduce your energy consumption. To care for your unit and keep it running as efficiently as possible, remember to:
Follow the instructions and use the insulation materials included with your room air conditioner.
Make sure the unit is level so the drainage system works effectively.
Clean the air filter at least once each season.
Keep the condenser clean and free of leaves and other debris.
Do not block the air conditioner vents with drapes or furniture and don't put lamps or other heat-generating devices like TVs near the AC thermostat.
If there are problems with unit's performance, have it serviced.
Here are a few more simple steps to reduce the cost of operating a room air conditioner:
Select the highest comfortable thermostat setting. A temperature of 25.5°C is usually recommended.
If the space is going to be unoccupied for more than four hours, the thermostat should be turned up to about 28°C. If it will be unoccupied for more that 24 hours, turn it off.
Use an extra fan to help distribute the cooled air.
On humid days, set the fan speed low. Slower air movement removes more moisture.
Learn more and connect with us
Looking for more tips on energy efficiency? Follow ENERGY STAR Canada on Twitter, Facebook, Pinterest and LinkedIn to maximize your energy savings and get the latest on energy-efficient products.