Back to school with energy savings
It's that time of year again… back to school. Whether it's back to grade school or university set your kids up with energy savings!
—
It's officially back-to-school season and this comes with many changes. As summer turns to fall, we change our daily routines, and most importantly, we change the way we use energy. What better time to come up with a plan to make smart investments, save energy and reduce your carbon footprint? Kick off the school year with a fresh start using these energy-efficient tips.
Choose ENERGY STAR®
Now is the time to take advantage of end-of-summer sales and look for the little blue logo when shopping for new electronics and appliances. Make sure the students in your family are equipped with ENERGY STAR certified laptops, tablets, printers, study lamps and mini-fridges to help them use less energy and reduce their carbon footprint. The last thing they should be stressing about when studying is the size of their hydro bill!
Get smart about standby power
Once everyone is set with all the ENERGY STAR certified electronics and appliances needed, make sure they're all plugged in to a smart power bar to minimize standby power use. This way, once study time is over, everything can be turned off at once with the flick of a switch and you'll save energy. Did you know standby power use can account for 5 to 10% of your energy bill? Every little bit counts!
Brighten up the study space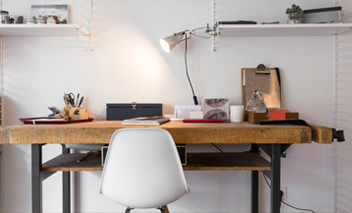 Encourage your kids to be smart about lighting their study space efficiently. Challenge them to light only the space they need by opting for task lighting, like a desk lamp, instead of relying on overhead lighting.
Pro Tip: Use ENERGY STAR certified LED light bulbs for your desk lamp so you can save up to 90% more energy compared to standard bulbs.
Use your fridge wisely
Preparing lunch for the kids can be time consuming and take a lot of energy, literally. Decide what's on the menu first, take out all of the food you need to prep, and immediately close the fridge door. Keeping the door open or constantly opening and closing it forces your fridge to work harder and you will use more energy.
Pro Tip: Avoid overfilling your fridge or freezer. To run efficiently there must be enough airflow inside. So keep your fridge size in mind while grocery shopping or meal prepping.
Learn more and connect with us
Looking for more tips on energy efficiency? Follow ENERGY STAR Canada on Twitter, Facebook, Pinterest and LinkedIn to maximize your energy savings and get the latest on energy-efficient products.