Beat the heat and keep your home comfortable
When it's too hot outside, we'll do almost anything to stay cool. Before you crank your thermostat down to arctic levels, consider these smart habits to beat the heat and avoid rising energy bills.
—
Things are heating up and, chances are, so is your energy bill! Hot summer days have a big impact on your energy use but lowering those utility bills can be more than just a summertime pursuit. The following upgrades will help you create smart, energy saving habits to keep your home comfortable so you can enjoy energy savings throughout the summer, and all year long.
Switch your thermostat
Make the upgrade to an ENERGY STAR® certified smart thermostat. These handy devices learn what temperatures you like best and automatically adjust to energy saving temperatures when you're asleep or away from home to save energy. You can also control your thermostat through your smart phone, so as you're outside enjoying the weather, you can make sure your home is nice and cool when you return.
Check out your cooling system
Keep your heating, ventilation and air conditioning (HVAC) system clean running as efficiently as possible. Change air filters regularly and keep your coils and ductwork free of dust and dirt to keep your home comfortable. When it's time for an upgrade, invest in an ENERGY STAR certified central or room air conditioner. Replacing an air conditioner that is over 10 years old with a new, energy efficient central air conditioner can easily save you upwards of 20% in energy used. Check out this guide to learn more about air conditioning in your home.
Be a fan of fans
ENERGY STAR certified fans use on average 60% less energy than standard models, making them a great investment for easy energy savings. They circulate more air and use less power to save you energy and keep you cool. In the summer, run them in a counter clockwise direction to increase airflow and create a cooling effect for the people in the room. What more can you ask for during a heatwave? Just remember to turn the fan off when you leave the room to save on energy!
Pro Tip: Take your energy efficiency one-step further and use your ENERGY STAR certified ceiling fan at the same time as your air conditioner. This will allow you to set your thermostat two degrees higher, keep cool and cut your air conditioning costs by 14%! Teamwork!
Make a savings splash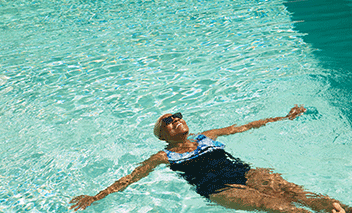 If you have a swimming pool, consider upgrading your pool pump. ENERGY STAR certified pool pumps could save you up to $245 each year with an in-ground model, which uses up to 65% less energy when compared to standard models. They run quieter, require less maintenance and provide more effective filtration – so take the plunge and dive into these energy savings!
Learn more and connect with us
Looking for tips on energy efficiency? Follow ENERGY STAR Canada on Twitter, Facebook, Pinterest and LinkedIn to maximize your energy savings and get the latest on energy-efficient products.