Five tips to help get you through allergy season
Struggling with seasonal sniffles? Manage your allergies and save energy with these tips.
—
For millions of Canadians, allergy season is in full swing. The sun is shining, the birds are singing, the flowers are blooming and… your allergies are out of control! While there's nothing you can do to control the pollen outside, we have some tips to help you beat allergy season inside your home.
Keep cool inside and stop the sniffles
Too hot and too many allergens outside? The simple fix is to stay inside and enjoy the cool, filtered air. When your AC filters the air in your home, it helps capture dust and pet hair that could be causing your allergies. And with an ENERGY STAR® certified air conditioner, you can avoid having your utility bill go through the roof while you make your home more comfortable.
Change or clean your filters regularly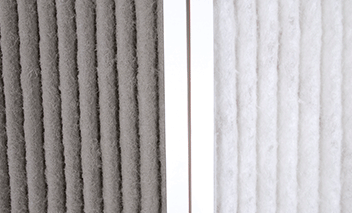 Before you start to use your conditioner again, change the unit's filter. Like many parts of your home's heating and cooling systems, filters require maintenance. Clean or replace the filter once a month so that it's free of allergens and can work most effectively. If you have a heat recovery ventilator the filter needs to be cleaned every 1-3 months. A clean filter allows better airflow (improving the efficiency of your heating or cooling system) and leads to fewer sneeze attacks, so it's well worth the effort!
Wash away the allergens
Did you know you could be wearing the source of your allergies? Dust, pet hair, and even pollen can build up in any fabric in your home, including your clothes, pillow covers and rugs! To eliminate these allergens, wash all fabric items using the hottest setting on your machine. When using hot water, set the water level to the minimum necessary to get the job done and use cold water to rinse. For maximum energy savings, opt for an ENERGY STAR certified washer and dryer.
Use an air purifier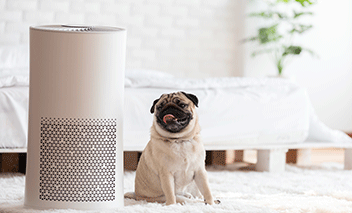 If you need some extra relief, try using an air purifier to filter out airborne irritants. Air purifiers also help to eliminate bad odours! Choose a model with the blue ENERGY STAR symbol to use, on average, 25% less energy than with standard models. That's a lot of savings!
Upgrade your windows and doors
If you're still suffering from allergies and looking for a longer-term solution, it may be time to replace your windows and doors. An older window or doorframe with holes, or weather seals with leaks, could be the source of allergens in your home. ENERGY STAR certified windows and doors are at least 25% more energy efficient than standard products, so upgrading is a win-win: keep the allergens out and lower your energy bills!
Good luck, allergy sufferers! We'll see you on the other side of this sniffly season. *Achoo!*
Learn more and connect with us
Looking for tips on energy efficiency? Follow ENERGY STAR Canada on Twitter, Facebook, Pinterest and LinkedIn to maximize your energy savings and get the latest on energy-efficient products.