So You Want to Perform a Compressed Air System Assessment?
Evaluating your compressed air system is the first step in improving its energy efficiency performance. Facilities may undertake compressed air system assessments using in house expertise or, possibly, through a qualified consultant or contractor. The initial evaluation involves a one time concentrated effort supplemented by ongoing focused spot checks. It should take a systems approach - that is an examination of individual components, and how they interact.
A qualified practitioner can assist you in performing the assessment and making system improvement recommendations. Contact your utility for a list of qualified and experienced firms in your area. Many provincial and municipal electric distribution companies offer technical support for these assessments. Financial aid may be available from federal and provincial governments and local utilities to defray part of the cost of doing a system assessment and implementing capital improvements.
Once the important operating parameters of the complete system are measured, and the operation of the system well understood, the areas requiring attention will come into focus. Supplementary improvement efforts need to focus primarily on the deficiencies identified during the initial assessment, together with ongoing monitoring of air leaks, system pressures, flows, temperatures, air quality, energy consumption and system control set points. The common steps in establishing a compressed air system improvement program include:
Gathering equipment nameplate data, receiver volumes, piping sizes and lengths and creating a drawing of the system.
Establishing a baseline by measuring the current compressed air performance levels.
Establishing required performance levels for system pressure, power consumption, and air quality.
Analyzing performance data, reviewing operating history, gathering and calculating operating costs to identify areas that require improvement.
Assessing alternative system configurations and other improvement measures to determine the best technical and economic options.
Determining the best technical and economic options to optimize the sub-components.
Devising a plan to implement the improvements for ongoing optimization.
Examining maintenance and purchasing practices.
Factoring in current deficiencies and future facility requirements for compressed air.
Asking yourself if there is a better way to supply and use compressed air.
Compressed air needs are defined by the air quality, quantity, and level of pressure required by the end uses in your facility. Analyzing needs carefully will ensure that a compressed air system is configured properly. The higher the quality, the more the air costs to produce. Higher quality air usually requires supplementary equipment, which not only increases original capital investment, but also makes the overall system more expensive to operate in terms of energy consumption and maintenance costs.
b. Gathering Equipment Data
A first step in the process is gathering equipment data. This can be found by recording nameplate data, service records, operating manuals and purchase orders.
This inventory should include recording the nameplate information and setpoints for all of the equipment in the compressed air system including the air compressor(s), aftercoolers, air dryers, receivers, filters, and controllers. A sketch should be made of your compressed air production and distribution system layout noting the pipe sizes, air take off points, and valves. The type and characteristics of machinery or tools along the route of the compressed air system should be recorded.
c. Establishing a Baseline
Several parameters should be measured to determine the baseline performance of your system. The baseline should normally include a load profile. A compressed air load profile indicates how demand for air and compressor energy consumption changes over time. A facility with short periods of heavy demand may benefit from implementing storage options, whereas a facility with a varying load profile will likely benefit from advanced control strategies. An example of a load profile graph appears in Figure 25.
The following measurements, assessments and calculations are normally included in a system assessment:
Air pressure measurements over time.
System pressure differentials at various locations between the compressor discharge and the important end uses.
Compressor Amps or kW vs. time. (Note: Only properly qualified personnel should undertake electrical measurements.)
System flow (either calculated or directly measured) preferably over time. This can be easily calculated using loaded vs. total run time for compressors with hour meters.
Ambient and compressed air temperatures.
Calculated operating costs for electricity, (water or chilled water), maintenance and taxes based on the gathered data.
System leak identification and measurement.
End use equipment pressure drops or differentials.
Identification of inappropriate uses of compressed air.
Assessment of air filtration systems for pressure drops and effectiveness.
Evaluation of air storage receivers.
Assessment of air dryers (required dew points, energy consumption and pressure drops).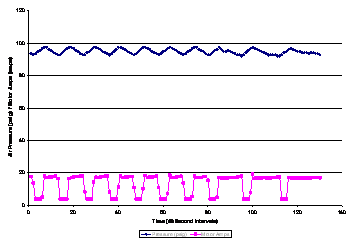 d. Analyzing Performance Data and Establishing Performance Levels
Once measurements are taken and performance standards established, the data can be analyzed to determine if the system is meeting the facility's needs. The analysis will point to areas of deficiency and identify potential opportunities for improvement.
Optimizing peak compressed air performance requires an examination of the relationship and interaction of components acting as a system, plus an independent component evaluation.
Areas to evaluate include:
Compressor type, size and condition. The compressors are evaluated for appropriateness of the intended use as well as overall condition. Compressor efficiency can be estimated from manufacturer specifications that are corrected to site conditions. The compressor installation is also evaluated for location, air intake, ventilation, and heat recovery.
Primary and Secondary Receivers. The effectiveness of the receiver tank should be evaluated for location and size. For the most part, the air compressors should be able to supply the plant's air needs, except for short periods of high demand that can be supplied by one or more receivers. Secondary air receivers to control demand events should also be investigated.
Compressor Controls. Check for appropriate pressure set points. In the case of multiple compressors, the pressure bands to trigger the start or stop of a compressor need to be adjusted.
Filters should be examined for cleanliness and appropriateness for the application. Pressure drops across the filters should be evaluated to estimate energy losses attributable to the filter. Check the appropriateness of maintenance schedules for changing the filters. Consider purchasing higher performance filters.
Aftercooler and moisture separator efficiency and cooling effectiveness can be measured and feasible modifications or alternative systems recommended.
Dryer appropriateness needs to be assessed based on the facility's end use for compressed air. It is important to note the dryer size, pressure drops, overall dryer efficiency, and consider dryer modifications based on the volume and quality of air requirements.
Automatic Drains. The location, condition, and effectiveness of all drains needs to be evaluated and energy efficient alternatives recommended where appropriate.
Other areas to consider are:
System pressure stability (is the plant having pressure problems)
System specific power (how many kW does it take to produce 100 cfm) or how many dollars does it cost per 100 cfm
Dewpoint stability (is there water in the air)
Peak, minimum and average flows (can the production system to adequately supply these flows)
Peak, minimum and average compressor room temperatures (can the compressors and dryers operate adequately in these conditions)
Maintenance and operating costs per year and per hour of operation (is it costing more to maintain a compressor than to purchase a new unit)
e. Devising a Plan
Once peak and average flows are known and performance levels established it is possible to calculate energy savings numbers based on various alternatives.
Some things that could be considered include:
Identification of equipment that can be shut down
Selection and use of compressor and flow controllers
Opportunities to downsize or purchase new equipment where appropriate
Evaluation to minimize compressed air equipment operating hours
Proper selection of air compressors (number of stages, type of air compressor, and control modes)
When selecting new or replacement equipment for your compressed air system, remember to base your decision on the overall expected life cycle operating cost. Avoid purchasing decisions made on initial price alone. Obtain Compressed Air Gas Institute (CAGI) compressor performance specifications to compare the full load performance of one brand versus another. In addition to providing you with unbiased advice, your local utility can often suggest the names of qualified practitioners in your area to help you with your compressed air plans.
f. Points to Consider When Hiring a Compressed Air Auditor
From time to time you may require help in undertaking a compressed air assessment or to plan a new system expansion. Here's a list of questions to think about in helping you make your decision¹:
What's the track record and knowledge level of the firm and individual who will undertake the work?
How well does the service provider understand energy efficiency and economic tradeoffs?
How familiar is the service provider with all aspects and types of compressed air, including air supply, and air demand?
How well do they know other associated equipment (dryers, filters, receivers, piping, end use etc.)?
How well does the service provider understand my industry and the products we manufacture or process?
How objective will the report or advice be? (e.g., Are they just trying to sell us more equipment or services, or is the work being done impartially and independently?)
How responsive is the service provider? (availability to do the testing to minimize impacts to the facility and/or undertake the testing during nights/weekends)
Can the testing be done with minimum supervision?
What will the compressed air assessment include, and what will the final report look like?
Can the final report be presented to management for developing an energy efficiency and business case?
How responsive is the service provider to health and safety practices and procedures