Working Together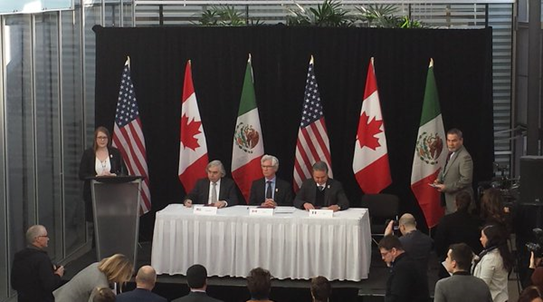 Signing ceremony of the Memorandum of Understanding concerning Climate Change and Energy Collaboration.
The Government of Canada is investing new funds to advance energy technology innovation and is also working to enhance domestic and international collaboration to advance clean technology goals. These efforts include working with Canada's provinces and territories through mechanisms such as the Energy and Mines Ministers' Conference and the pan-Canadian Framework on Clean Growth and Climate Change.
The framework will set out a concrete plan, together with the provinces and territories, to achieve Canada's international commitments for clean growth and climate change. We will leverage technology and innovation to seize the opportunity for Canada to contribute global solutions and become a leader in the global clean growth economy.
Internationally, the Government of Canada is seeking opportunities to expand collaboration with international partners on clean energy research, development and demonstration. Recent announcements include the following: