Green Jobs Internship Program
NRCan's Science & Technology Internship Program—Green Jobs supports youth between the ages of 15 and 30 (inclusive) gain work experience and skills in the natural resources sector through paid internships and training opportunities in science, technology, engineering and mathematics (STEM) and other related fields to promote positive environmental outcomes.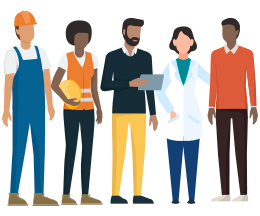 Eligibility requirements for participants
Must be between 15 and 30 years of age
Eligible to work in Canada
Canadian citizen, permanent resident, or have refugee status
Internships are for full-time employment and require participants to be available at least 30 hours per week
Apply now to be an intern
Visit the following websites to learn more about each delivery organization, select the one that fits your needs and submit an application.
What is a green job?
A green job is a job within an organization that aims to protect the environment or within an organization that is interested in processes with positive environmental outcomes. A green job can be classified as follows:
Professions that require environmental skills, knowledge, experience or competencies in order to produce products or deliver services that have an environmental benefit (e.g., architects and land use planners who incorporate sustainability into designs, air quality engineers and conservation officers)
Professions that may not require specialized environmental skills but result in an environmental benefit (e.g., construction or trades workers that apply knowledge of standard construction techniques while completing green projects, manufacturing production workers, and companies that produce environmental goods)
Professions that support organizations in the natural resources sector that work toward positive environmental outcomes (e.g., communications, marketing, administration, project management, engagement, sales, and business analysis)
Find Out More
Get in touch
Email us at Science and Technology Internship Program
Follow us on social media and join the conversation using #GreenJobs, #YouthEmploymentandSkillsStrategy, #STEMInternships and #MyGreenJob.